New Kawasaki Z650 MRS Flat Track project unveiled
Well-known motorcycle modifier, MRS Oficina, has already impressed many by crafting the stunning Café Racer style machine based on the Vulcan S. Now a second collaboration with Kawasaki France is unveiled: the Kawasaki Z650 MRS Flat Track.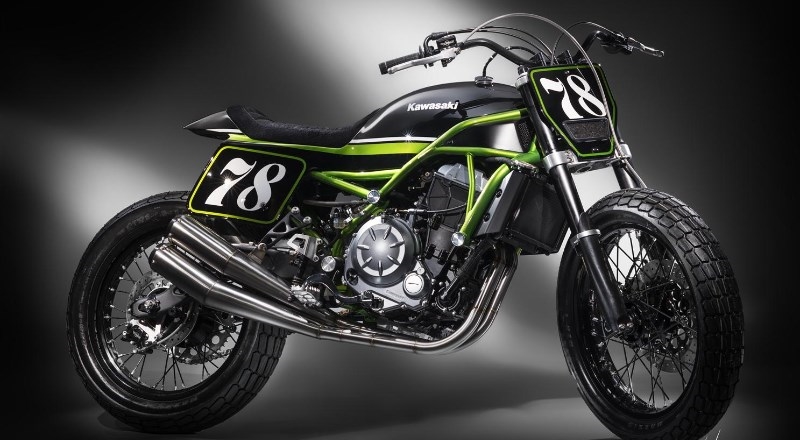 Antoine Coulon, Kawasaki France: "The first project in collaboration with MRS was a real success, and it has pushed us to start a second collaboration. MRS is a great artist, who likes to lead cutting edge projects that push the boundaries of convention. His know-how is currently one the best" 
Now, MRS is back on stage and reveals a project based on the Kawasaki Z650. He has transformed the mid-weight naked into a magnificent Flat Track machine. MRS managed to put in hours of work and passion with a visual and engineering masterpiece as result.
MRS Oficina: "I would like to thank Kawasaki France for this second opportunity to create something unique.  This project was more demanding compared to the first one, but the result is worth it. We worked with mutual trust and I was free to express myself. The goal was to create a unique motorcycle and I hope the public will appreciate it".
The machine with its sleek design and spectacular attention to detail earned its spot in the renowned Studio Harcourt in Paris. The Studio is known for its unique style on lighting and shadows, allowing the colours of the Kawasaki Z650 MRS to stand out even more. 
Francis Dagnan, President of the Studio Harcourt, explains: "Personally, I'm a big motorcycle fan and it's a real pleasure to take pictures of this stunning machine. We work hard to make the result as attractive as possible by using the technique that made our studio famous in 1934, a tradition that we have been using ever since. We now also offer enthusiasts the possibility to shoot their portrait with their beloved motorcycle or car." 
The Kawasaki Z650 MRS made its debut on September 10th at the "Chantilly Art & Elegance Richard Mille" at the Chantilly Castle (60) in France.